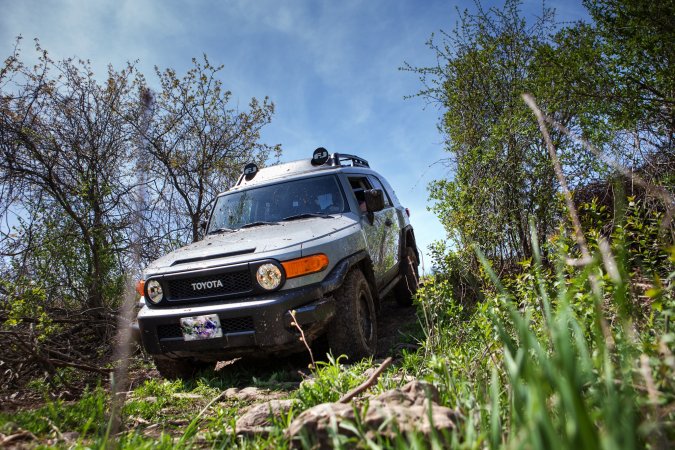 Who and why should someone attend a DriveTeq Off-road driver education day?
DriveTeq off-road days are for anyone who wants to learn about off-roading and the capabilities of their vehicle.  Our events are geared to newcomers and experienced off-road drivers wishing to improve their skills and knowledge base in a structured environment.
For the off-road novice, you'll experience the day at your own pace under the supervision and assistance of our experienced trail guides. We reduce the stress, increase the understanding and offer an environment to learn and have fun.
For more experienced drivers, trail guides will be available for some one-on-one instruction as you go through both our skill developing exercises and the trails.
What is the tenor of a DriveTeq Off-road driver education day?
The DriveTeq off-road day is focused on teaching the fundamentals of how to prepare and properly off-road with your vehicle. The days are laid out in such a way that they are both educational and entertaining.
How does the day run?
Registration starts around 8 am at Canadian Tire Motorsport Park. The days run rain or shine. All drivers will be taken for an introductory classroom session to go over some fundamentals and theory of off-road driving in order to build a proper foundation for the activity. Prior to heading to the course we'll also discuss off-road manners including how to follow, speed, safety and radio use.
What kind of vehicles are appropriate and how will they be grouped?
Any SUV, CUV or pick-up truck is welcome and appropriate, provided it is insured, plated and in good working order*. We ask for plates and insurance because the day could take us on to surrounding highways and county roads to get to another off-road trail. You do not require any up grades to your vehicle to participate.
Almost any factory all-wheel drive SUV, CUV or pick-up with reasonable ground clearance will work. If you have any question about the suitability of your vehicle, please Contact Us.
Generally we separate drivers according to their vehicle and what off-road technology and capability it has.
Is there Off-Road coaching personnel available?
DriveTeq will have off-road instructors to assist drivers during the course. Our instructors will add to the quality of the event and augment the delivery of educational information.
Is there a lunch break?
We break for approximately an hour long lunch. This provides the opportunity for everyone to eat, refresh and prepare for the afternoon sessions. Normally, lunch is provided as part of the entrance fee for the day.
How do I prepare for a DriveTeq Off-Road day?
If you would like to learn more about what you should do to prepare for DriveTeq Off-Road Day, click Here.
Please Contact Us with any questions.
*We always reserve the right to deem a vehicle unsafe for our programs without the obligation of providing a refund.