Our calendar and various blogs list the details of the track days we have planned and is updated regularly to include new events.
We believe we offer the most in educational and entertaining track day opportunities.  Just ask about the number and quality of the days offered and the resources made available to ensure you achieve your personal objectives.
Track days are held on closed circuit motorsport tracks.  In the Greater Toronto Area and its immediate surrounds, we regularly use the Grand Prix Track and the Driver Development Track at Canadian Tire Motorsports Park (formerly Mosport International Raceway).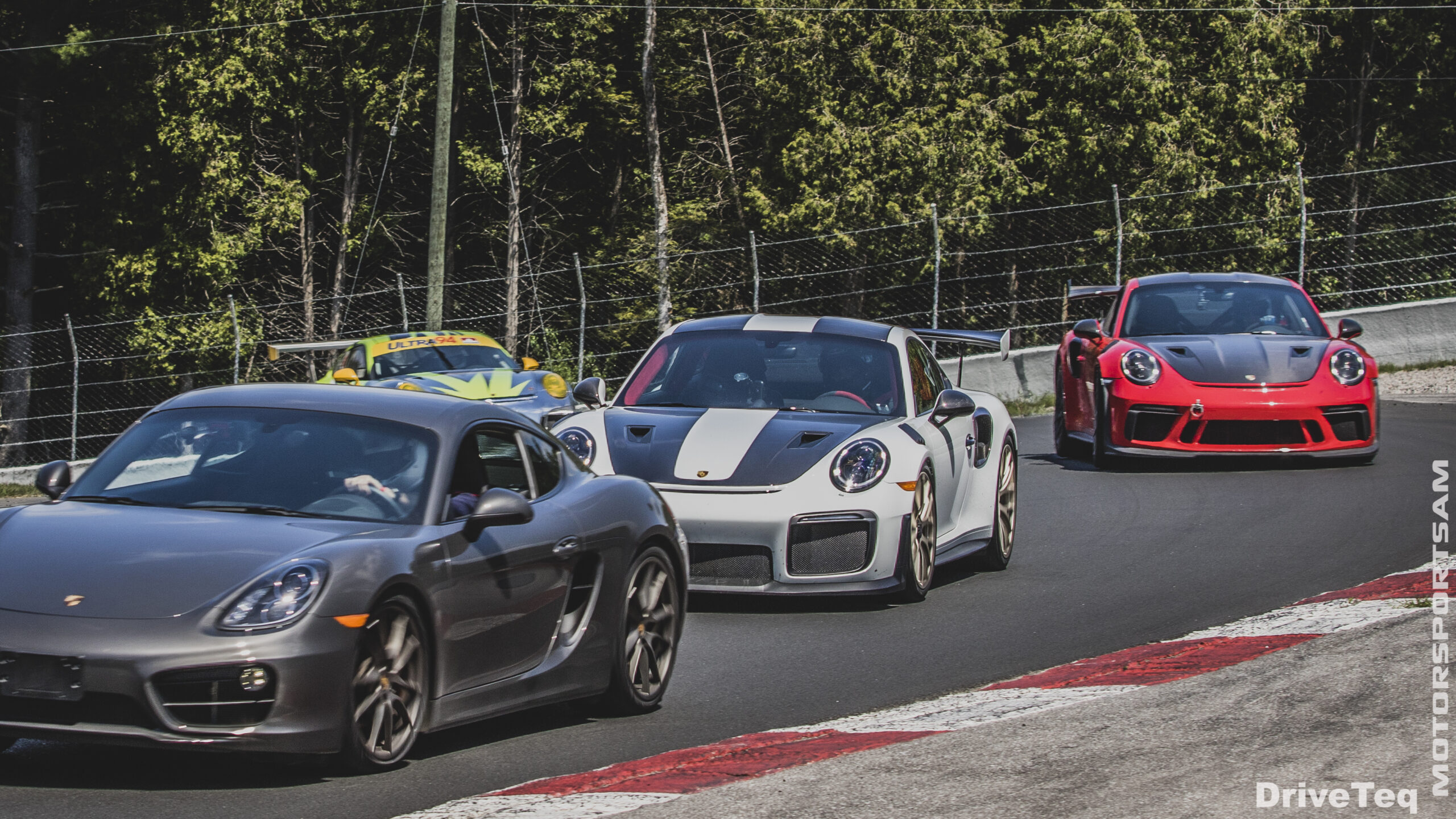 CTMP is a premium facility providing unique opportunities to enjoy your vehicle or a track rental in a controlled environment and learn.  Our events take place throughout the course of the entire year including the winter season.
Track days take several different forms.   Some events are geared exclusively to experienced enthusiasts while others are for newcomers.  Often track events are mixed with the participants being separated according to their experience and skill and some track days are designed exclusively as educational events.  We organize and participate in all forms of track days and have the experience and partnerships to ensure you participate only in an event appropriate for you.  At any track day event, safety is our job #1 so that you have the opportunity to properly enjoy your vehicle in a way that is exciting and rewarding for you.
With DriveTeq, you are able to take the mystery out of track days, participate in an event matched to your objectives, skill and experience and get unrivaled access to a greater number of track day options.
And, if you think track days are for the summer months only, think again.  DriveTeq is one of the few providers of year round track day events.  Consider our winter driving programs.  Winter is one of the most outstanding times to develop your car control skills in a safe and effective manner. When we say driving is at the core of our business, we mean it and we have a passion for it – rain, sleet, snow or shine. And if you don't want to suffer the cold weather, join us for one or more of our many DriveTeq Road Trips south of the border and enjoy some track fun in the sun and out of the snow.
At DriveTeq, we can assist you in finding an event that is right for you or if you are part of a larger group, we can design and execute your own event.  Contact Us for more information!

DriveTeq Track Days – Drive Better…Drive Results!  Go to our Schedule to see our events and register.  For any questions including a request for private or group coaching Contact Us. Please remember track days run "rain or shine"!
"As you both could probably tell, I had a blast. You both made me feel comfortable pushing the car. I can't believe how much I learned in one day and as an added bonus lunch was amazing. I will definitely be out at some further events."
— Josh on DriveTeq Track Day —
"Fantastic day yesterday…I don't recall ever being part of a group of people that were so in-tune and courteous with one another on the track."
— Eugene on DriveTeq Track Day —
"Drive Teq  makes your track day or weekend experience all the more enjoyable. From registration, coaching at all levels to track side assistance their years of experience are invaluable!"
–Alex on DriveTeq Track Days —
"I brought my wife and children for an educational and fun day of driving at the track.  DriveTeq knew how to communicate with us effectively, they looked after my family and we all had a great time."
— Richard on a DriveTeq Driver Education Day —
"I first came to Driveteq as a complete novice: someone who did not even know what a track day was. The entire Driveteq team has provided me with ongoing coaching that has allowed me to increase my driving skills in a rapid, enjoyable, and safe manner. Everyone at Driveteq has a great love for motorsports, and their clients quickly develop a similar joy from participating in their events and instruction programs. Track days and other driving events have now become an important part of my life and my most enjoyable hobby."
— Fareed on DriveTeq Integrated Motorsport Resources —
"I have participated in events coordinated by the DriveTeq principalos for the past two years.  They are always first class and professional and at the same time have an outstanding ability to make driving events both thrilling and safe at the same time.  Truly outstanding!"
— Sidney on DriveTeq Track Days —
"Wow what an awesome day with DriveTeq at Mosport. From the moment of arrival and throughout the day, I was truly impressed with how well everything was organized. From the pre-driving brief, out to the skid-pad, slalom, and race course – you always knew what was going on and what was coming next. Over and above the great driving instructions and tips from Rick and Gerry, it was interesting how a group of drivers with their Astons Martins, BMWs, Porsches, Mercedes, Mustangs and other cars quickly bonded after having just met that day. I enjoyed the day so much that I'll be back. Thanks again."
— Morgan on DriveTeq Track Days —