Preparing for a DriveTeq Local Track Day
DriveTeq believes it is important that we do our best to deliver maximum value when you participate in either one of our own, managed, or coached track events.  We want to provide our resources in a manner consistent with our Driving Values and help you prepare yourself as best you can for your day(s).
Although you need to consider your specific circumstances and the following lists are in no manner exhaustive, in our experience it can be very helpful to consider the following prior to attending a DriveTeq local track event:

At Least 2 Weeks Prior to the Local Event
Event Format:  Be aware whether the track event that you are considering is open, two-run, three-run, or multi-run format.  Each has its following and expectation as to driver competency.
Track Car Tech Inspection: Although we do not typically require a formal "tech inspection", please consider a review of the vehicle  to ensure your car is prepared for the rigors of the driver's education event.  It's unfortunate, for example, if you arrive with brake pads that will not last the completion of the event. Additionally, fresh high-temperature brake fluid will significantly reduce the likelihood that you will feel brake pedal "fade" during the event.
Helmet: Unless you are a beginner, ensure you have an auto sport helmet with a Snell rating of 2010 or newer.  If you are a beginner and able to obtain a helmet, please have it available.
Prior to the Local Event
Personal
Mental:  Prepare by observing specific video to get an overview of the course.  If you are are attending an event at Canadian Tire Motorsports Park (CTMP) with us, consider booking a preparatory local track session at one of the smaller local tracks we operate at (see our Schedule for availability of local track sessions).  Note: CTMP is the fastest track in North America and appropriate respect should be given.  Always come to a track event well rested.
Weather & Clothing:  Check the expected weather and come prepared with appropriate clothing.  We run events rain or shine (and in the winter with snow/ice).  Always expect some variation in temperatures and have layers.  While you are driving, you will likely be warm.  When you are standing outside, you may be cold.  The track typically feels colder than what you expect from the actual temperature.  Be prepared for rain with a change of clothing and shoes.  Clothing Essentials: raincoat, sunglasses, sunscreen, sweaters, t-shirts, jerseys, hats, gloves, driving shoes (if you have - otherwise soft soled shoes that will allow "pedal-feel"), change of shoes.
Chair: If you have space, a fold-up chair is nice.
Food: Determine whether lunch is provided at the event.  In any event, it's always advisable to bring a few snacks and some water (particularly during the warmest months).
Money:  We suggest having some cash on hand.
Electronic Devices:  Remember chargers for whatever devices you bring.  At the same time, it is very important that you are not using the devices or have them on during track exercises.
Equipment and Car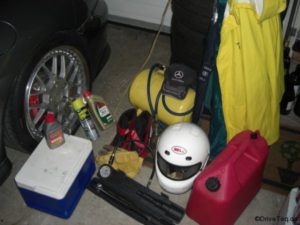 Gas: Come to the track with a full tank of gas.  You will likely use more than you would in normal everyday driving.  After lunch, if you have 2/3 or less of a tank remaining, fill your tank before the gas pumps at CTMP close between 1:30 to 2:30pm.  Failure will result in your inability to drive to the end of the day and worst, to the nearest gas station to get home.
Gas Cans:  Depending on your carrying ability, you may wish to bring gas cans.  At CTMP, gas is often available through the middle of the day at a premium price but otherwise you will need to go off-site to fill your tank.  Gas cans provide some additional flexibility and save some time at the track.
Tools: Bring your car tools to the extent you have them.  Typically, work gloves, a torque wrench, socket for your wheel nuts, an air pressure gauge and a car jack, if you are changing wheels.  If you have tools uniquely suited to or required for your car, bring them (e.g. centre lock wheel torque wrench).
Helmet:  Unless you are a beginner, ensure you have your Snell 2010 or better rated helmet.  If you are a beginner, please bring a helmet if you have access to one.
Oil & Brake Fluid:  Bring some extra motor oil and high temperature brake fluid.
Cleaning:  Windshield cleaner and paper/cloth towels.
Please feel free to discuss any concerns or questions with us prior to the event.  You can simply Contact Us.
We look forward to seeing you at the track!  DriveTeq: Driving Better...Driving Results!