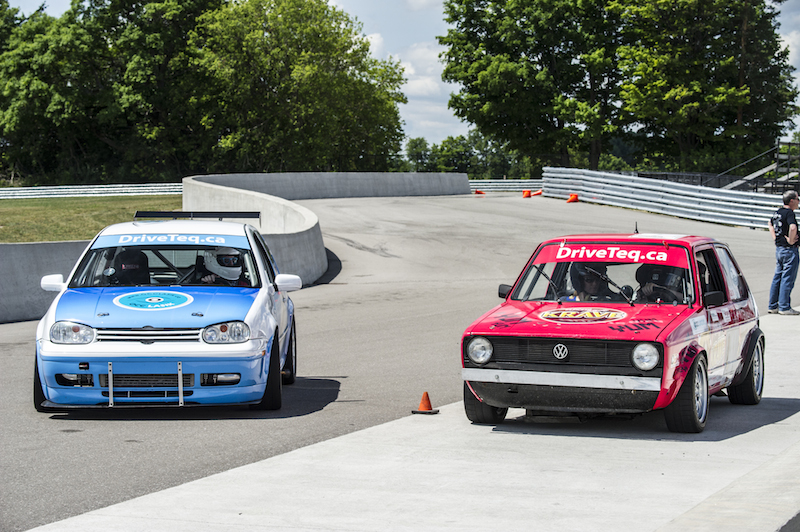 INTERESTED?
Do you want to have some great fun racing? Do you want to do with a low level of aggravation and not worry about all of the racing logistics? Do you like to laugh a LOT? Are you interested in becoming a little better driver along the way? Would you like to win but you are ok with not experiencing all the glory related to being a Chumpion? How about a reasonable price tag?
If you have answered yes to most or all of the questions above, DriveTeq's Racing Program ("DriveTeq") might have a Race Team for you during the 2018 racing season.
To speak with us directly about the program, email Rick@DriveTeq.ca or Gerry@DriveTeq.ca.
QUICK & DIRTY   (What's this about?)
low cost, "arrive & drive" racing
tremendous fun and memories
competetive, great handling, fast & fun cars
professionally run
best racetracks
no racing experience required
training preparation available
great place to get racing seat time
PRINCIPALS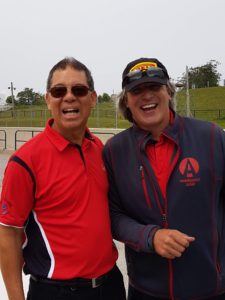 The DriveTeq principals have been participating in high performance driving related organizations in Canada and the US for years. We have worked together with many individuals helping them become better drivers on all kinds of racetracks in every imaginable weather condition. We have organized trips to tracks where we've had almost as much fun off the track as we've had on it. Now, we know there are individuals and groups out there who want to dial the fun up a notch and try their hand at a little racing BUT they want to do it in a well organized way, be safe, keep the hassle low and not blow the bank. So, we have created the DriveTeq racing program.
THE SERIES
ChumpCar Canada ("ChumpCar") is a "series of automotive endurance races held on premier road race courses across Canada". Since 2014, we have participated in races at Mosport, Calabogie and Watkins Glen. In 2018, DriveTeq plans to take part in 3 of the Canadian races (see below).
The cars have a low market values but are required to be properly prepared with racing safety equipment. There are reasonably detailed rules of participation but the bar for racing experience is relatively low. DriveTeq's emphasis is on seat time, having a great experience racing on a lower budget, learning about yourself and racing (& practising) and having some group fun! All of the races are endurance races of one sort or another. Many are double 7 or 8 hour races.  If you'd like to know more about the series, you can visit www.chumpcarcanada.com.
THE CARS
1. 1982 Cereal Killa Volkswagen GTi Race Car #666
Qu'est-ce que c'est? The immortal car that started the "hot hatch" revolution. Will it challenge the Nissan GT-R for horsepower? Nope. Expecting spectacular technology and driver aids? Take your skirt off, there will be no tire pressure monitor, g-meter or traction control features built into this beaut. The tires will be "streets" of some sort with a tread wear rating of more than 190.
All who have driven the Rabbit, including some professional racers, leave with a big smile!  It's raw, light and it handles.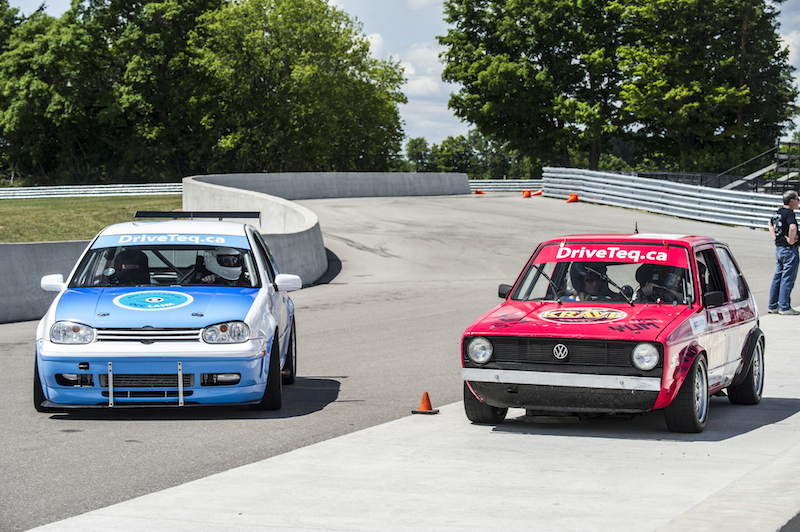 2. 2000 OCC Lasik Volkswagen GTi Race Car #667
The #667 (Blue) is a thoughtfully prepared and powerful race car. It was developed and refined over the entire 2017 track season. Extremely light and stable, it is an excellent platform for both the experienced driver and novice. Tremendous road feel and handling are the hallmark of this pistol.
THE SCHEDULE
All races are on Saturday and Sunday. The planned 2018 racing schedule is:
May 5-6 – SHANNONVILLE: Double-8 (Ontario)
June 30/July 1 – CANADIAN TIRE MOTORSPORTS PARK (Mosport): Double-8 (Ontario)
September 22-23 – CALABOGIE MOTORSPORTS PARK: Double-8 (Ontario)
THE TEAM FORMAT
We are running a program that is consistent with the ChumpCar philosophy which is to have a lot of laughs racing cheap cars cheaply and safely. The program will be well organized, professional and efficient. We also want everyone to get a lot of seat time without killing you.
We plan to have 4 drivers per car ("a Chump Driver" or "Chump Racer") depending on the race format. We would within reason try to divide the driving equally with Gerry and/or Rick and our tech team serving as "Chump back up drivers" if required.
Gerry and Rick are the DriveTeq principals and would be Team Captains. We would make necessary adjustments for each race as required but with the intent of providing everyone with similar amounts of seat time keeping in mind always that our principal objective is for everyone participating to have a lot of fun and go home safely. Unfortunately or fortunately the prize money is not worth talking about but the trophies are pretty cool looking!
Depending on each participant, we can and do schedule race training sessions and practise outings before races. Each driver is required to obtain a ChumpCar racing license and to sit through a short training seminar from ChumpCar also.  The process is simple and practical.
CHUMP CAR CREDENTIALS
No, you do not have to be a chumpionship driver to participate. It wouldn't hurt if you've had a little high performance driving experience but it's not a pre-requisite. Your desire to learn, go fast, have fun, compete and be safe is most important. We are looking for people who want to have fun, are team players, will be respectful of their teammates, other participants and the equipment and who value their lives. We do not want any "nasty hockey dads" on the team; that is the guy who is always concerned that what they are doing is better, that they are being discriminated against, if they or their kid, metaphorically speaking, could just get in the game it would all be better, or worst of all, everyone else is "shit" and they are great. To be clear, we are not looking for that participant! If you see yourself that way, please disqualify yourself early.
EQUIPMENT
DriveTeq supplies race car, the ongoing maintenance and repair, gas and transport. You will need to get a fire suit, shoes, socks, underwear and gloves, a hans device (or neck support) and a Snell 2010 or better closed face helmet with built-in communication.
RELEASES
Let's start with what ChumpCar says in its rules:
"The Unspoken Rule: This is racing… racing is dangerous. Your car may be damaged or destroyed at any time. You may be injured or killed. Do not participate in a race, in any capacity, if you do not understand this and do not get into a race car without thinking about this. Okay, that pretty much says it all… or, maybe not. See "Insurance" (below).
Insurance: ChumpCar carries and provides insurance for facility and event liability; however, ChumpCar is NOT your primary insurance provider. ALL COMPETITORS MUST HAVE PERSONAL HEALTH AND/OR MEDICAL INSURANCE TO COVER THEIR MEDICAL NEEDS (ambulance transport, initial medical screening, etc.). YOU SHOULD NOT BE ENGAGED IN DANGEROUS ACTIVITIES SUCH AS AUTO RACING IF YOU DO NOT HAVE ADEQUATE PERSONAL INSURANCE PROTECTION. PARTICIPANTS THAT DO NOT HAVE INSURANCE WILL BE PERSONALLY LIABLE FOR FINANCIAL CHARGES AND FEES ASSOCIATED WITH ANY MEDICAL CARE."
We will also request that participants release DriveTeq, Gerry, Rick and all team personnel from all liability in respect of the participation of any of the ChumpCar events or related activities. We expect ChumpCar will request the same thing. So you should review your own insurance situation in respect of your participation with DriveTeq and the ChumpCar Series.
COST ELEMENTS, TERMS AND TEAM RULES
We have worked out a budget based upon the team structure set above. There is a fee (set out below) which is intended to cover the fixed and variable costs of the season which include:
Race car build, set up and ongoing maintenance (tires, fluids, brakes, duct tape, expected general repairs)
DriveTeq race car transport for races and scheduled training days
DriveTeq team personnel travel, food and accommodation
Race entry fees
Participant licensing fees
DriveTeq team equipment
DriveTeq race car gas
DriveTeq race collision insurance to limit crash damage liability; not over-rev insurance
DriveTeq team administration, organization and insurance
Miscellaneous event costs
We expect each Chump Racer will cover his or her costs of transport to events, accommodation and food. DriveTeq will handle the non-personal logistics of the racing (although DriveTeq contemplates building in the licensing costs for each person). If you have travelled with us before, you know we like to move in packs (kind of like jackals) and work to take care of our own but understand that schedules and personal preferences may require that you travel and/or stay alone. We do our best to car pool to cut costs and DriveTeq team personnel also endeavour to travel together and stay together to cost manage and frankly just to have fun.
At events, we often eat together and stay at the same places. They tend to be clean and budget oriented. This is again consistent with the overall focus of the program. You are certainly not precluded from Ritzin it if it's your thing or important to you.
We don't want to be overly regulated but we want to create a reasonably clear outline to help everyone with their expectations. On a high level, we want to function wherever possible as one cohesive team unit. That said, DriveTeq will retain discretion to preside over the DriveTeq Beaver Court (Canadian, eh) which will if required make determinations on more contentious issues. For example, if we have someone showing disrespect for teammates or the equipment and driving without concern for the car, we'll reserve the right to charge that individual for the damage. As you may or may not have considered there are a lot of variables in racing. That's part of the excitement we suppose! On the other hand, we are working hard at creating a reasonable framework in which the program can function so it's not a disorganized "free for all"; we're not interested in that and we don't operate that way.
The terms will also contain further conditions around the possibility of a future surcharge to cover extra-ordinary expenses incurred during the season. We have worked very hard at the budget and we are hopeful that we are in the right range but DriveTeq needs a little bit of flexibility.
The DriveTeq team rules will be to govern basic etiquette. Again, it is our hope that Chump Racers will come to the DriveTeq team experience with an attitude of good sportsmanship, humour, competitiveness and camaraderie and that 2018 will be a season chalked full of outstanding memories, excitement and big belly laughs.
We've started to create a history, and to date, the memories made have been incredible.  You just need to watch some of our racing video footage.
TEAM CONCEPT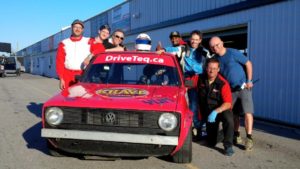 We draw your attention again to "Chump Driver Credentials" above. We will wherever possible operate as one overall team. We will spend some time reinforcing our fundamental philosophy of good sportsmanship, fun and safety as the primary drivers of this race program experience.
We also encourage pre-existing groups with this same philosophy to join us as a group. What a great way to have some fun with family and friends and meet some like-minded individuals.
COST PER RACE WEEKEND
#666 – $3000 plus HST is our price per person per race weekend. We have noted the cost elements above also that would be contained in the fee. Under the cost elements noted above, we've also attempted to assist you in understanding the additional costs for your account like accommodation over the weekend.
#667 – $3450 plus HST per person per race weekend.
We have also attempted to build in some margin for minor expected unexpected events which is typical of any driving event and particularly racing. We have budgeted based upon our current assumptions to operate in a reasonably prudent and professional manner with some margin for the expected unexpected.
The fees are subject to change depending on special event circumstances (which circumstances are always communicated in advance and agreed).
SPONSORSHIP
Please let us know of any sponsorship ideas or suggestions you may have. We are open to the possibility of sponsorship for the cars.
NEXT STEPS
Our first race is at the beginning of May at Shannonville, ON and we need to register for this event at least 6 weeks in advance.
We recognize that for most the principal limitation on participation will be time and/or money. We are attempting to address both with this program and create the opportunity for people to experience the thrill of racing.
Please contact us as soon as you can if you would like to play. We won't be able to run this activity as a last minute adventure in terms of participation. We hope that you find the prospects enticing and will seriously consider participation in another one of our DriveTeq adventures!
Contact us by emailing Rick@DriveTeq.ca or Gerry@DriveTeq.ca.